Mississippi Pot Roast
Jump to recipe
Mississippi Pot Roast

Easy to make, but with a big wow factor

Total Time
2 hours, 20 minutes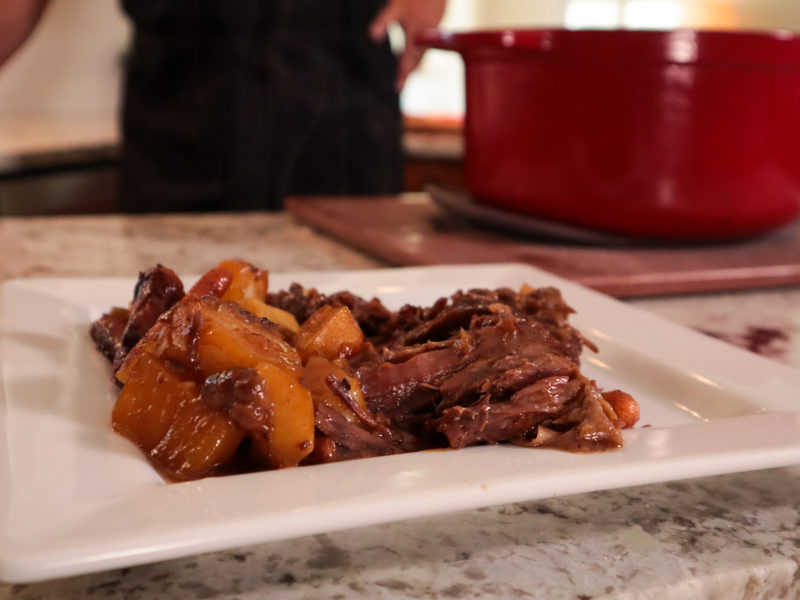 Notes
Cool completely! Refrigerate for several hours and up to a couple of days

Ingredients
3 - 4 lbs chuck pot roast
1 packet au jus gravy
1 packet ranch seasoning mix
1/2 - 1stick butter
8-10 pepperoncini peppers
2-3 tbs pepperoncini pepper juice from the jar
1 med-large yellow onion sliced
3-4 cubed potatoes
4 cups beef broth
Vegetable oil (or some other high smoke-point oil for searing the pot roast)
Note: The pepperocinis and the juice will create a spicy bite, so adjust according to your tastes
Instructions
Preheat the oven to 375F
Heat the pan you are using to sear the meat, then add about 2 tablespoons of oil to the pan.
Sear the meat in a large shallow skillet. See the video for my safety recommendation versus searing in a deep Dutch Oven.
Sear the pot roast on all sides, remove it, and set it aside in the Dutch Oven.
Saute until the onions become translucent. Deglaze the skillet with the onions using about 1 cup of beef broth.
Add the beef broth, au jus gravy, ranch seasoning mix, and pepperoncini juice to the pot roast resting in the Dutch Oven.
Add the pot roast, pepperoncini peppers, and butter to the preheated oven. Cover with a lid, place into the oven and bake for about 1 1/2.
Add more liquid, if necessary, during the cooking process.
If using potatoes, add them at this time. Check roast in about 30 minutes for tenderness. It should easily shred with a fork. Do not overcook. Allow it to rest for a few minutes before serving.
Use the leftovers for a delicious Mississippi Po boy Sandwich.
Nutrition Facts
Mississippi Pot Roast
Serves: 8
Amount Per Serving:

4oz.

Calories
% Daily Value*
Total Fat
0
Saturated Fat
0
Trans Fat
Cholesterol
0
Sodium
0
Total Carbohydrate
0
Dietary Fiber

0

0
Sugars
Protein
| | |
| --- | --- |
| Vitamin A | Vitamin C |
| Calcium | Iron |
* Percent Daily Values are based on a 2,000 calorie diet. Your daily values may be higher or lower depending on your calorie needs.
© 2023 Copyright All Things Food